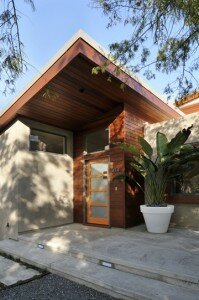 My wife, Cathy, and I really liked our one-story cottage near downtown Palo Alto, but the floor plan didn't work for us at all. The most direct path to the backyard was through the master bedroom, and loving to backyard-entertain as we do, running through our bedroom with plates of meat headed to the grill quickly lost its appeal. Also, our house cost us a fortune to "heat," and we still froze our keisters off every winter.
When we hired Drew Maran Construction (DMC) to execute the remodel, all we wanted was a beautiful, warm-modern house. We didn't set out to be supremely green. But Drew's level of knowledge, and his willingness to teach us about the ultimate outcomes of our choices, had a huge impact on the greenness of our project. As the remodel progressed, we began to consider "green" in every choice we made, and we're glad we did. The house is warm, comfortable, and more beautiful that we could have imagined. We refused to compromise on design or aesthetics for the sake of being green, and in nearly every case we ended up with both!

The decision we agonized over most was finding a heating system that would work the best and be energy efficient. We went with hydronic heat, embedded in thin gypcrete poured on top of the subfloor, powered by a condensing boiler. This system was definitely more expensive up front, but it was hands-down the best decision we made. Our new house is wonderfully warm and comfortable. We're heating a 65% larger house and our utility bills are about the same as they were. We're planning to install solar photo voltaics, too, to reduce our energy usage and utility bills even more. We totally nailed that one in terms of both function and green.
A

nother big decision was to deconstruct the old house instead of demolishing it. Drew advised us that we could offset much of the additional cost of deconstruction by donating the saved materials, and taking a tax credit. He was right. Not only did the tax credit offset the deconstruction cost—but we kept a lot of material out of the landfill. In the final analysis, this green choice also saved us money.
We do have a few "woulda-shoulda-coulda's." We love our Blomberg windows, but we might have been able to go even more green there. Also, since our house is so well insulated, we probably should have installed a "heat recovery ventilation" system; condensation can be a problem in certain low-traffic spots during the winter.
That said, we're absolutely thrilled with our home. The new layout works even better than we'd hoped. When the house won the Sustainable San Mateo 2010 Green Building Award, it was (organic) icing on the cake!
Bruce Schena is an inventor, entrepreneur, and engineer with multidisciplinary interests and experience spanning robotics, medicine, business, consumer product design, haptics, wood- and metal-working, modern sculpture, and architecture. Bruce has Bachelor and Masters degrees from MIT, and was the first to receive the Degree of Engineer in Product Design given by Stanford University. He holds 71 issued US patents with over 50 additional applications pending. Bruce has worked as a freelance design & engineering consultant in the San Francisco Bay Area and is currently one of two Engineering Fellows at Intuitive Surgical in Sunnyvale, California. His responsibilities include defining and inventing next-generation daVinci® surgical robot architectures and technologies.