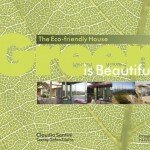 As a new segment of Green Architecture Notes, we plan to periodically share images from talented photographers and authors who are focusing on Sustainability and Design.  Our inaugural post is drawn from the aptly named Green is Beautiful book by photographer Claudio Santini and Dafna Zilafro.  Green is Beautiful offers 30 stunning residences each exemplifying sustainable design.  Below we offer images from a few favorites.  For more information, see Claudio Santini's website, www.claudiosantini.com, or Amazon.com.
Description of Images Top Row
left – Carver + Schicketanz Architects creates a warm modern space that ties expansive views in with tactile, rustic salvaged materials in the Treadwell Residence.
center left – At Sintesi Design's Kuperberg Residence, large pivot doors and a shade trellis blur the boundaries of indoor-outdoor living.
center right – Working within a tight urban lot, Zack DeVito Architects masterfully directs daylight from overhead to bring natural light deep into the Chattanooga Townhouses in San Francisco.
right – Pugh+Scarpa incorporates clean energy generation into the Scarpa Residence by wrapping a photovoltaic array across the roof and down one façade of the building.
Description of Images Bottom Row
left – O plus L's Nordine Residence features clean lines and celebrates the use of thermal mass in a board-formed concrete fireplace and concrete floors.
center left – Stone walls and concrete floors make up a simple and elegant material palette for the Piperno Residence by Luigi Villano.
center right – Through careful siting and the use of a green roof, Feldman Architecture allows House Ocho to sit quietly in the landscape, while views of the lush terrain dominate the visitor's experience.
left – Recycled timbers from an old barn span the dining room and frame the sweeping view of the Petaluma River at the Sutton Residence by Sutton Suzuki Architects.
Hannah Brown is a current contributor to Green Architecture Notes, works with Feldman Architecture and teaches at California College of the Arts in the Architecture Department.